How to play the game "Retro Puzzle Game"?
Matthew is addicted to video games, he plays them all day long and knows all the rules to every game. Or so he thought...One day, he had played so many video games that there was simply nothing left...until...his games console sucked him into a black hole and transported him back to the 1980s! Seriously weird. Matthew found himself wearing double denim and hi-tops, and stuck in this old skool logic game in a retro games arcade! Woooo! See if you can help him win the game and get back to the future! Read more
In this free old skool puzzle game, you simply need to swap the icons to bring three of the same icons together! Easy right? That's what Matthew thought too, but he clearly needs your help! You'll love going back in time with Matthew though, listen to all those cute arcade noises in this free logic puzzle game! It's seriously tricky though, and to make it even trickier, you're up against the clock! Can you win the game fast enough to take Matthew back to his own time? If not, why not try playing some more retro games with him while you're stuck in the 80's? In fact, we think he's beginning to like it here...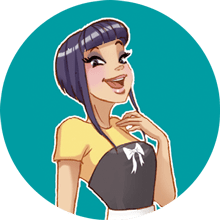 Retro Puzzle is one of my favorites! We clearly have awesome taste! Come and play more of my fave puzzle games!