How to play the game "Play Hide 'n Seek Game"?
In this lovely surprising game for girls you will find that you want to play it again and again and again! Here you'll find a puppy who wants to play with her friends. They're going to play HIDE AND SEEK! Start by clicking on the top button. Read more
At the start of the game someone will throw an object. You need to go and catch it as quickly as possible, while all your friends run and hide. Then you'll count down 10, 9, 8, 7, 6, 5, 4, 3, 2, 1, ZERO!!! Then you have to find your friends. As soon as you spot one of your friends you need to run back to the circle as fast as possible so that you get there before one of your friends steals the can of drink inside the circle.
If your friends get back before you though, you'll lose! Be quick! and keep watching all the time for all of your friends! You have to catch up three friends to win and get onto the next level! Good luck! And remember to tell your friends all about www.mygames4girls.com, and add it to your blog!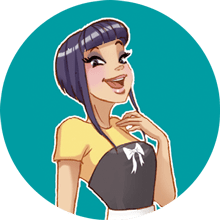 Play Hide 'n Seek is one of my favorites! We clearly have awesome taste! Come and play more of my fave free games!