How to play the game "Noodles Restaurant Game"?
Do you love Asian food? In this restaurant game you'll be learning how to cook and prepare noodles! Our friend Sonia has been left in charge of her family's restaurant while her parents are on vacation, and she needs a cooking games expert to help her out. There are dozens of hungry customers waiting to be served! Read more
First boil the noodles with tomato sauce, then place them in a bowl. Next, add the vegetables or other ingredients that the customers have asked for and place the dish on a tray. You'll need to work hard if you want your restaurant to be a success! More and more customers will come in as you move up the levels, so stay alert and play fast. Feeling hungry after preparing all those tasty noodles?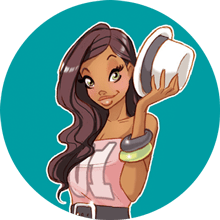 You're clearly loving Noodles Restaurant - you should check out my pick of the best cooking games!