How to play the game "Goban Game"?
Are you the sort of girl who can't get enough of board games like chess or checkers? Maybe you've even played a few rounds in our online girls' games! Have you ever heard of Go? It's a traditional Chinese board game for two players which requires the use of strategy and logic. Come and have a go playing against the computer in this surprise game for girls! Read more
Unlike other puzzle games for girls, the pieces you use to play the game of go (or goban) are called 'stones'. The aim of this logic game is to make up a line of five stones of the same color, a bit like in Connect 4. You also need to stop your opponent from making a line of five stones, or they'll win. It might sound simple, but you'll need to use your best strategies if you want to win! Ready to play? Go!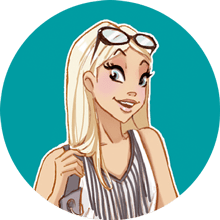 If you enjoyed Goban, you'll love these logic games just like me!