How to play the game "Girls' Adventure Game"?
There are always tons of surprises waiting for you in our girls' games! Today we've been extra generous, because in this animal game you'll find not one, not two, but five girl games for you to play! Follow Roger the rabbit on his crazy adventures: catch him while he runs through fields in the first animal game; lead him through a cave avoiding stalagmites and stalactites; try and beat him in a game of tick-tack-toe; find him hidden in a magician's hat; and finally help him cross a busy road so he can grab a tasty carrot in an arcade game! Read more
There's no way you'll get bored with this crazy free animal game! If you love cute rabbits like Roger, why not check out the other pet games and animal games for girls on the site? Rabbits, cats, dogs, birds… you'll find tons of pets and exotic animals in our dress up games, coloring games and much more! Get playing and start having fun!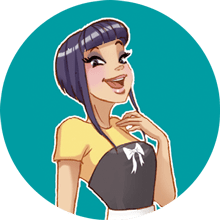 Girls' Adventure Game is one of my favorites! We clearly have awesome taste! Come and play more of my fave free games!