How to play the game "Free Brain Teaser Game"?
Calling all math geniuses! We've got a great new brain teaser game for really smart girls who love to tackle challenging sums and complicated algebra. In this free puzzle game you'll see a grid of numbers from 1 to 9, with unfinished multiplication, subtraction or division sums just below. Click two, three or even more numbers to solve the sums as quickly as you can. Once you've clicked a number, it'll be removed from the board. Try to clear them all as fast as possible to win maximum points in this girls' game! You'll need to use your logic. Read more
Think you can add and subtract almost as quickly as a calculator?! Prove your skills with this free girls' game! If you're a whizz with numbers, you'll zip through this number puzzle with no problems. Numbers games like this one are a great way to practise your sums before math class, but they're also really fun! For online sudoku games and lots more challenging logic puzzles with numbers, check out the rest of the girls' games on the site. We have tons of fun math games to keep your brains ticking after school!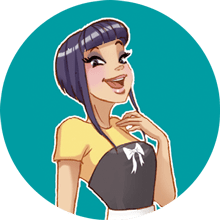 Free Brain Teaser Game is one of my favorites! We clearly have awesome taste! Come and play more of my fave logic games!