How to play the game "Detention Slacking Game"?
When you enter college or high school, you'll discover something which you want to avoid at all costs…detention! Nobody wants to go there, not even once during their education, because it means that they have behaved badly or that you haven't done your homework! Today in this free girls' game, Sarah has been badly behaved at school. She was very cheeky to the teacher and refused to do any work! Her teacher decided to send her to detention. Uh oh! Sarah is such a rebellious girl though, so instead of working in detention she has decided to play and have fun… Read more
In this free school game for girls, Sarah is going to spend her time texting, eating cakes, twiddling her thumbs and even building a tower! She must be careful though, as her teacher is watching all the time! Help Sarah to misbehave behind her teacher's back in this funny game, but make sure she doesn't get caught. Remember though girls, never follow Sarah's example, or you too will end up in the dreaded detention!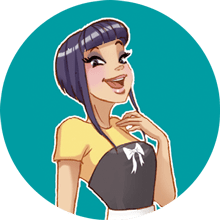 Detention Slacking is one of my favorites! We clearly have awesome taste! Come and play more of my fave free games!