How to play the game "Design a Baby Monster Game"?
Quick! Run! A scary monster is chasing after you! Oh, wait...it's not scary at all, it's actually the cutest thing we've ever seen! Charlie is an adorable little baby monster who needs a new home, so he's coming to live with you for a little while in this free girls' game! You mom's not too happy about little Charlie coming to live with you, but all he wants is to be loved! You must do your best to make him look lovely and cute so she will change her mind! That's right, you get to design your very own monster! Read more
In this free fun game for girls, you can play around with Charlie's monstrous looks. Change his legs, arms, hair, skin and more...eye eye, you can change his eyes too! It's pretty difficult to make Charlie look scary in this crazy monster game, we're sure that mom will love him just as much as we do! Don't make a monstrosity of this game...give Charlie a beast of a new look!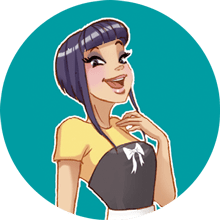 Design a Baby Monster is one of my favorites! We clearly have awesome taste! Come and play more of my fave monster games!