How to play the game "Cute cubes game"?
These cubes might look cute, but don't be fooled! They're actually tiny viruses, and you have to get rid of them! If you've played Tetris, this new girls game will be really easy for you. Just use the arrows on your keyboard to move the blocks from left to right as they fall down the screen. You can also use the up and down arrows to turn the blocks around. When you've managed to place four in a row, the cute cute cubes will disappear! This retro girls' game is pretty easy to begin with, but as you move up the levels the cubes will fall faster and faster. Be and quick as you can! Read more
Tetris-style games like this one have been popular for years, and it's easy to see why - they're so simple, yet so addictive! Try to hit the high score with this fun girls' games, and make sure you check out the other categories when you're done. We have loads of dress up games, cooking games and more for you to enjoy!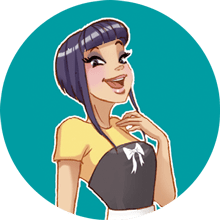 Cute cubes game is one of my favorites! We clearly have awesome taste! Come and play more of my fave logic games!