How to play the game "Crazy Motorbike Race Game"?
Are you the sort of girl with a thirst for adventure and a need for speed? If so, you're sure to love the racing games on MyGames4Girls.com! Today you'll be hopping on a motorbike and driving over some very rough terrain, grabbing gold coins as you go. Try to earn as much money as you can before the time runs out in this bike game for girls, but don't go too fast or you're sure to crash! Read more
Motorbikes, 4x4s, racing cars... you'll find all sorts of vehicles waiting for an expert driver to get behind their wheel in these girls' games. Put pedal to the metal in this free racing game and prove that girls can race just as fast as any boy. Good luck, and drive safely!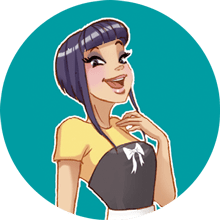 Crazy Motorbike Race is one of my favorites! We clearly have awesome taste! Come and play more of my fave racing games!