How to play the game "Code Lyoko 2 Game"?
There are loads of stars in our girls games. In this Code Lyoko girls game you'll be able to lead Yumi through a program created by Jeremie. For this, the arrows on your keyboard will help you move Yumi around and the spacebar will launch projectiles to destroy your enemies. You'll also have to avoid objects thrown at you. It's really an adventure game, a real game of speed that we offer you here. Read more
You'll have to be careful and get rid of all the enemies as quickly as possible. Pay attention though, as the game speeds up as you go. If you like Code Lyoko games you can find others on mygames4girls. Think about giving the address mygames4girls.com to your girlfriends so they can come play girls games with you.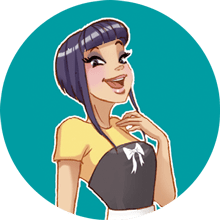 Code Lyoko 2 is one of my favorites! We clearly have awesome taste! Come and play more of my fave adventure games!