How to play the game "Coconut the Puppy Game"?
In this play of game, Coconut is a puppy which adores to have fun by catching the bones which fall in front of him as well as the butterflies. To play, click on the "start game" button at the bottom of the game. Then click on on "play now" on the page of the instructions. Read more
During this game for girls, the bones and the butterflies caught by Coconut will bring back points to you and you'll be able to see your score at the end of each level of the game.
The instructions are easy - use your mouse to move Coconut around the screen, and then click your mouse button to make her jump. And try hard to get bonus butterflies - the yellow ones are worth 100 bonus pints, and the purple ones are worth 200!! Make sure you avoid the balls by jumping over them - if you are hit by a ball you'll lose energy. (You can see your energy by looking at the hearts - the red ones are full, the pink ones are empty!). When all your energy is gone, the game is over so be careful!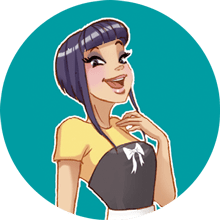 Coconut the Puppy is one of my favorites! We clearly have awesome taste! Come and play more of my fave kids games!