How to play the game "CHRISTMAS Colouring In Game"?
Look at this funny Christmas picture! What is Santa doing - and who does he have with him? He looks like they've had a bit of a sleigh crash into a big pile of snow!!! Read more
We'll not know for sure what has happened though, until this picture is beautifully coloured in by some clever girl who loves colouring games!!!
Have a go at this game if you love colouring in! There are lots of fab colours to choose from, and unlike real colouring on paper...you can change your mind as many times as you like!
Just click on the colour you want to paint with, and then click on the part of the picture you want to colour in! Nice and easy. See if you can bring this funny picture to life with your great colouring talent!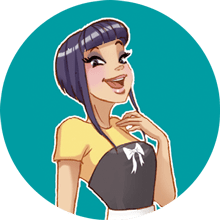 CHRISTMAS Colouring In is one of my favorites! We clearly have awesome taste! Come and play more of my fave christmas games!