How to play the game "Barbie Birthday Cake Bake Game"?
It's Barbie's best friend's birthday soon, and Barbie knows the perfect present to get her. A birthday cake of course! Barbie won't be buying the delicious cake from the shop though, she'll be baking it at home herself, as Barbie loves to bake cake. She is a little pressed for time though, as her friend's birthday is tomorrow, eek! Can you help her in this celebrity baking game for girls? Read more
First, you'll need to arrange the layers of cake. You'll be taking them straight from the oven, be careful, they're hot! There are three layers altogether...this is one huge birthday cake! Next, you must choose a color for the sponge. You'll find golden brown, yellow, purple and pink. Mmm, it looks so delicious! Follow the steps in this Barbie cooking game until you've added the frosting and decorations. Don't forget to add the candles at the end too. We love baking with Barbie kitchen!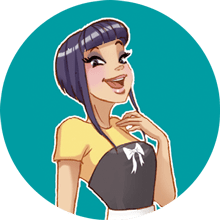 Barbie Birthday Cake Bake is one of my favorites! We clearly have awesome taste! Come and play more of my fave baking games!