How to play the game "The Lonely Night Animal Musical Game"?
Heres a super game for girls who like music! In this game there are four great musical animals - they play in a band together and have some really good music that they play. Unfortunately, when they play their music really loudly, it makes the plants on the window ledges above them shake and they fall off! Read more
In this game there are several levels that get harder and harder (and faster and faster!)
Every time there is a flower pot about to fall on one of their heads, you need to click on the red and white awniing, so that it opens up. Keep it open until the plant pot lands on the awning (instead of on the animal's head!!!)
The meter at the top shows how much life you have left, and the number shows how many you have managed to stop! As long as you stay alive you'll keep moving up in the levels...so concentrate hard, because when it gets really fast you'll have to be super quick!!!
Good luck, and don't forget to click on "send to a friend" if you like the game and you want you friends to play it too!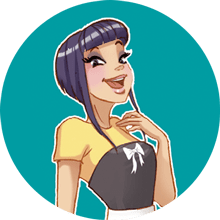 The Lonely Night Animal Musical is one of my favorites! We clearly have awesome taste! Come and play more of my fave music games!