How to play the game "The Christmas Elf Game"?
Here's another of our christmas games. Fantasia is an elf who has worked for Santa Claus for 300 years. As you must know, the elves do not age that's why they are useful to Father Christmas. He trains them in girls games and he can then keep them for many years in his service. Fantasia was trained to accompany Santa Claus in the distribution of gifts. And being a little girl, she can often slip into the little places where Father Christmas can not reach. Read more
Thus, all children can receive their gifts without problems each year. In this Christmas game for girls, you will have to find an outfit for Fantasia. You will have several choices to make to find the ideal and beautiful clothes for Fantasia. This game is really nice girls game, especially during the Christmas holidays! There are lots of other Christmas games for girls here, but if you'd like something different, there are also cooking games, baby games, animal games and lots lots more!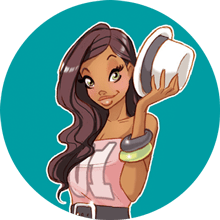 You're clearly loving The Christmas Elf - you should check out my pick of the best christmas games!