How to play the game "Secret Kiss Game"?
OMG, the day Sophie's been waiting for has finally arrived. Timmy is the cutest boy in school, and last week he asked her out on a date! She's been planning her hair, make up and outfit for days now, and she's all ready to go. There's just one problem...her dad says she's not allowed to date boys! It's so unfair! Can you help her share some romance and a secret kiss with Timmy in this free kissing game for girls? Read more
Like a true gentleman, Timmy has come to Sophie's house to pick her up. Her parents are home, and there's also her annoying little brother and the protective gardener to deal with. She has to sneak out and give Timmy a secret romantic kiss without anyone noticing! This free girls' game is more difficult than you might think. Sigh, love is never easy! We sure hope Timmy is worth all this effort! Don't forget to check out more girls' kissing games on the site once you've waved Sophie off on her date!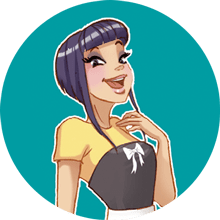 Secret Kiss is one of my favorites! We clearly have awesome taste! Come and play more of my fave love games!