How to play the game "Puppy Spot the Difference Game"?
Everyone loves puppies! This spot the difference game tells the story of Alex, a little boy who loves animals and always does his best to help them. In this girls' game you'll see pictures of Alex as he finds and helps a very cute little puppy that has been injured. The images are almost identical, but there are six small differences between them. Try to find them all in this fun pets game! Read more
You can play easy, medium or hard versions of this girls' game. The hard mode is really difficult, so you'll need to search every little bit of the picture to find the differences! Once you manage to spot the difference, click the mouse to circle it. You'll get 100 points for each change you find but you'll lose 25 points if you make a mistake, so look carefully! This girls' game has five levels to complete, and after each one you'll get to read the next part of the story and find out what happens to Alex's new puppy. If you love dogs and puppies, this pets game is for you! Have fun, and remember that there are tons more girls games for animal lovers to enjoy at MyGames4Girls.com!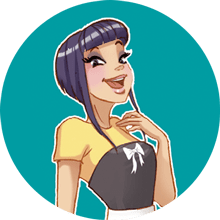 Puppy Spot the Difference is one of my favorites! We clearly have awesome taste! Come and play more of my fave free games!