How to play the game "Princess Spot the Difference Game"?
Girls, this game requires a lot of concentration! Princess Sophie is preparing to attend the annual grand ball that is held in the royal palace. Her father, the king, has invited the most handsome princes in the land in the hope that one of them will be his daughter's Prince Charming. Aww! There's a problem though. Preparations cannot go ahead until all of the differences between these pictures have been spotted. Can you find them in this free puzzle game for girls? Read more
Move the mouse over the images and click where you see any differences. When you've found all the differences, you'll move onto the next level until you eventually complete this girls' spot the difference game. You must be quick though, all the princes are waiting at the palace doors for Princess Sophie! We wonder if she'll meet the man of her dreams. If she does, we hope she invites us to the wedding!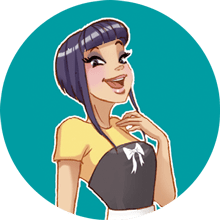 Princess Spot the Difference is one of my favorites! We clearly have awesome taste! Come and play more of my fave princess games!