How to play the game "Play to Become the New Star Game"?
Have you always dreamed of being famous? Do you want to perform to millions on stage, singing and playing guitar, wowing your fans? You could be like Beyonce, Taylor Swift or Ariana Grande! With this game, your popstar dreams can come true!
First, you'll need a superstar look. Pick out your makeup and hairstyle to make sure you look like a real rockstar diva! Then, it's time to train! Practice your Guitar Hero skills and make sure you never miss a note. Now, you're ready for the stage!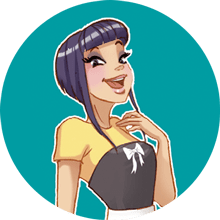 Play to Become the New Star is one of my favorites! We clearly have awesome taste! Come and play more of my fave makeover games!