How to play the game "Messy Bedroom Game "?
Are you a messy girl or a total neat freak? Our friend Mayra is definitely the former! This disorganized girl always leaves her room at home in a total mess: empty cans on her desk, books all over her bed, clothes on the floor... there's barely anything left in her wardrobe or shelves! In this free girl game Mayra's mom has decided to put an end to this once and for all, and has made the untidy girl pay for a professional cleaner to tidy up her bedroom. Sounds like a job for a girls' games pro like you! Read more
In this online home game you'll need to be quicker than Mary Poppins and clean up the bedroom in just three minutes. Drag Mayra's clothes to her wardrobe, her books to her desk, the old cans and food to the garbage and her money to her piggy bank until her bedroom is looking spotless. Are you this messy at home, or do keep your bedroom neat and tidy? Leave us a comment to tell us!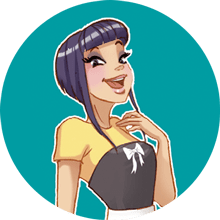 Messy Bedroom Game is one of my favorites! We clearly have awesome taste! Come and play more of my fave free games!