How to play the game "Kiss Game at the Beach"?
Aww, young love! There's nothing like it, right, girls? It always makes Lee, Lea and I really happy to see couples in love, walking hand in hand or laughing together. Unfortunately not everyone feels the same, as you may have already seen in other free kissing games! Our friend Lili and her boyfriend Brad have been a couple for a few months and are very much in love. They love spending the day at the beach together, but they need our help so they can enjoy a little kiss without being seen by the nosy lifeguard. Let's help them out in this kiss game - they'll be so grateful for your help! Read more
This cute couple can't really relax, because that mean lifeguard is always snooping around and spying on them. If he catches them kissing, he'll shout at them and tell their parents – and poor Lili will cry! Watch the lifeguard carefully, and when he's not looking, click on the couple to let them kiss. If you can let them kiss long enough, you'll be able to move onto the next level in this girls' love game. We have lots more kissing games for you to play at MyGames4Girls once you've finished - perfect for big romantics like us three!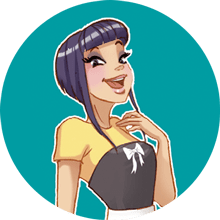 Kiss Game at the Beach is one of my favorites! We clearly have awesome taste! Come and play more of my fave couples games!