How to play the game "Kids Play Park Game"?
It's springtime in this free girls' game, and everyone wants to spend their time wandering round in the hot sun. This would be fine, but it can be difficult for parents to enjoy this beautiful weather when they've got kids to look after! Sylvia is a teenager who is desperate to save some money up for her spring break, and she's thought of the perfect way to do it...babysitting children in the play park! Not only can she earn money, but she can top up her tan! Parents have started bringing their children to the park for Sylvia to entertain. That's a lot of responsibility! Sylvia might need an extra pair of hands in this free girls' game. Read more
The main problem for this hard working teenager is that she's just too good at looking after children...her services are so high in demand that too many children are being sent for her to look after! Let's take a trip to the park to help her out. You'll need to pay attention to what each child wants...playing on the slide, climbing onto the swings or riding on the seesaw, there are so many fun things to do in the park in this girls' babysitting game! Help Sylvia out as much as you can or she won't get paid. Do you think you would make a good babysitter? Put yourself to the test!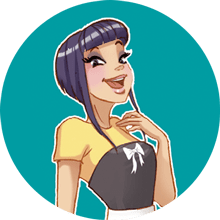 Kids Play Park is one of my favorites! We clearly have awesome taste! Come and play more of my fave kids games!