How to play the game "Gnome Kissing Game"?
Here's a romantic tale of gnomes, fairies and forbidden love, a bit like Gnomeo and Juliet! The stars of this new girls' love game are Merry, a handsome gnome, and Hilly, a pretty little elf with pointy ears. These two cute little creatures have fallen in love, but the rest of the villagers don't agree with their relationship so it has to be kept a secret. In this girls' kissing game you have to help Merry and Hilly kiss without anyone seeing. This village is full of nosy old people, sneaky fairies and even snooping scarecrows, so you'd better be careful! Read more
Just click on the young couple and hold your mouse down to let them kiss. Watch the villagers closely for their reaction, and let go as fast as they can if they start to look. You get five lives in this free kissing game, so don't worry if you get caught once or twice. If you manage to fill the kiss barometer before the time runs out, Merry and Hilly will be very happy and you'll get to move to the next level. If you're the romantic type you'll love this great girls' game, so come and join these sweet mythical creatures in their fun woodland adventure!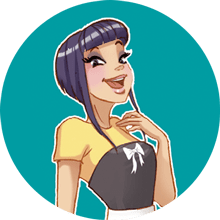 Gnome Kissing Game is one of my favorites! We clearly have awesome taste! Come and play more of my fave couples games!