How to play the game "Dora's Birthday Cake Game"?
How awesome is Dora the Explorer!? Besides being a lovely girl who wants to be friends with everyone, she gets to go on the most fascinating adventures that make us green with envy! Today we are hanging out with Dora in this celebrity game for girls. Dora and her friend Boots are in the middle of the Borneo jungle looking for a magic elixir that rejuvenates and heals many diseases. Dora is such a clever little explorer! Read more
The journey is taking longer than expected in this Dora the Explorer cooking game for girls, and after spending the day crossing a swamp and climbing trees, Dora has realised that she forgot to celebrate her birthday...it's today! Let's decorate a beautiful cake for Dora and Boots to eat in the jungle. Choose the different layers and delve into some cake decorating with icing, frosting and sprinkles in this fun cake decorating game. Let's make Dora feel at home in the jungle. Surprise!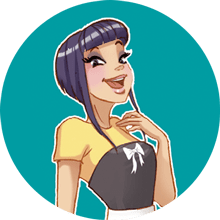 Dora's Birthday Cake is one of my favorites! We clearly have awesome taste! Come and play more of my fave cake games!