How to play the game "Do the cleaning Game"?
Oh no, all these christmas parties and new years parties have left the house in such a mess! The Kitchen is covered in things, the living room has toys all over the floor...all the rooms are a mess and someone needs to clean up! So here's a really fun game for girls to play. You get to tidy up all of the things lying around. It's a lot more fun than doing it at home, but you have to think about where you put things. You can't just hide everything inside one cupboard or put them all in the bin. You need to think about where everything goes. Put things in the wrong place and they'll just fly straight back to where you find them. Read more
There are lots of levels to pass in this funny game, and if you enjoy it invite your friends to play too. Then go and have a look at decorating games, or cooking games, or just choose some more fun games to play on mygames4girls.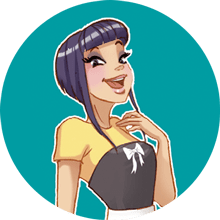 Do the cleaning is one of my favorites! We clearly have awesome taste! Come and play more of my fave free games!