How to play the game "Pretty Nails Game"?
We have a dilemma, girls! We wanted to make a manicure game for us all to play, but we can't agree on a style! Lee likes nail art manicures with fun stickers and girly shades, but Lilou hates stickers and likes an understated French manicure! Lea's just fed up arguing about things that aren't even in style right now! can you help these three best friends choose the perfect manicure, from enamels, nail stickers, transfers, gems and more?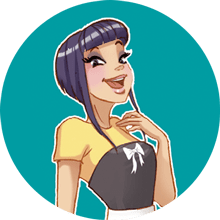 Pretty Nails is one of my favorites! We clearly have awesome taste! Come and play more of my fave manicure games!