How to play the game "Cleaning the House Game"?
Oh my goodness, it's such a mess! To celebrate the end of the school year and the start of the holidays, Lucy decided to organize a party with all of her friends. She really wanted it to be a quiet party with just girls, but in this free cleaning game, Lucy's brother overheard the plan and invited all of his friends too! Now, the house is a huge mess, just look at it! Lucy doesn't know where to start with the cleaning, and her parents will be home soon! They won't be very happy to find a messy house... Read more
So, Lucy needs your help. You are an expert with tidying and cleaning games after all! Get out your broom, the vacuum cleaner and mop to get all this mess cleared away. Make sure you throw any rubbish in the trash and put all the objects back in their rightful places. Most importantly, keep your eye on the time. We need to make sure that everything is perfect before Lucy's parents arrive. We're sure the work will be done quickly with two girls like you working together in this free girls' game! Wow, look how tidy it is, well done!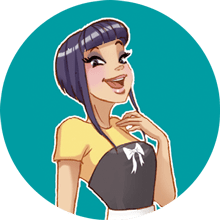 Cleaning the House is one of my favorites! We clearly have awesome taste! Come and play more of my fave free games!