How to play the game "Clean up the Beach Game"?
What a beautiful day! Thirty degrees and not a cloud in sight! Violetta can finally enjoy a nice day on the beach. Oh, what's this? The beach is full of rubbish! There are empty cans, candy wrappers and apple cores strewn about everywhere! So, Violetta's plan for the day has changed...it's time to clean up the beach! Can you help? Read more
How could anybody pollute such a beautiful place? Take your broom and collect all the waste. Be careful to sort the items properly, otherwise you might have to start from scratch. If you're a little protective of the planet like we are, you must know that the plastic and the cans can be recycled, so don't mistake them for trash! Wow, you've worked so well, good job! Girls, what do you think of beach pollution?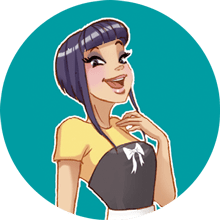 Clean up the Beach is one of my favorites! We clearly have awesome taste! Come and play more of my fave beach games!