How to play the game "Changing a Baby's Diaper Game"?
Great news! Someone has responded to your babysitting ad! A young couple have just had an adorable baby and they really want to have a relaxing, romantic evening. They spotted your advert in the paper and would like you to come and look after their adorable baby daughter. Don't get too excited though! Looking after a baby is serious hard work, and it's a big responsibility. Luckily, you're an expert when it comes to free baby games! Read more
Now, this little girl has just woken up and she needs some attention. Remove her dirty diaper and wash her before changing her. Keep your eye on the happiness meter and make sure she doesn't cry too much! Hmm, that wasn't so hard! When she's all cleaned and changed, take her to her room to play with her teddy bear, ball or rattles. Aww, she's so cute! We think you've been a wonderful babysitter in this girls' babysitting game. Have you ever changed a diaper before? Share your baby stories in the comments girls!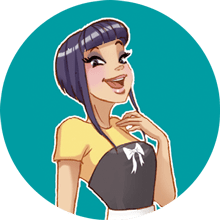 Changing a Baby's Diaper is one of my favorites! We clearly have awesome taste! Come and play more of my fave baby games!