How to play the game "Candy Blast Game"?
Enter a world made purely of candy...no, you're not dreaming! Mel is stuck in Candyland. It was great for the first few days. She got to eat as much candy as she liked and hang out with all the cool candy folk, but now, she's a little bored. She has eaten way too much sugar and she just wants to go home...but how? Read more
Mel quickly realised that she was trapped in this place. The only way she can get out is by using her trusty bow and arrow to blast through the sugary obstacles that keep getting in her way. She knows all about your gaming expertise though, and would like your help! Use your mouse to aim the arrow in the right direction, and then click. The longer you hold you click before releasing it, the stronger the shot will be. Sweet shot! Can you shoot all the candy away in time so Mel can get home?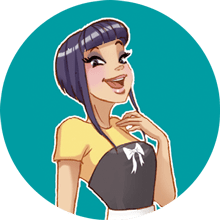 Candy Blast is one of my favorites! We clearly have awesome taste! Come and play more of my fave free games!