How to play the game "Babysit a Little Girl Game"?
Phew! Kate had been wondering how to make some extra cash to pay for her summer camp for a while until her mom told her that their neighbors are desperate to find a babysitter to take care of their little girl. In this free girls' game, Kate loves babies, so she thought a great way to save some money would be by spending her afternoons taking care of this little girl...but, it's her first day today and babysitting a child seems to be more complicated than she expected! Read more
Luckily, you are a great friend and are here to help Kate in this babysitting game for girls! Kate has just texted you asking for help, and you are about to discover a very demanding little girl! Pay close attention to her wishes and demands! You'll have to take her to the beach and the amusement park and play with her all the time. She cant get bored or she'll cry and Kate won't be hired as a babysitter ever again! Do you think you could take care of a little girl? Play this free babysitting game for girls and find it out!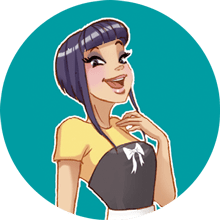 Babysit a Little Girl is one of my favorites! We clearly have awesome taste! Come and play more of my fave babysitting games!