How to play the game "Alien Brain Surgery Game"?
Hello girls! This is Luna. This girl comes from Mars. Her parents sent her to Earth to explore the lives of humans during Halloween. Scientists have been watching her since she arrived on the planet, and now they want to take a closer look at her! Hmm, it seems that brain surgery is a must. What will we find in her alien brain? A lot of stars apparently! We wonder what it must be like to have purple skin...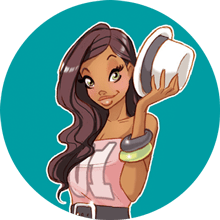 You're clearly loving Alien Brain Surgery - you should check out my pick of the best monster games!