How to play the game "A Monster in Paris Game"?
You'll find loads of magical and mystical girls' games on this site! Today we've dug up a special dress up game featuring the stars from 'A Monster in Paris'. This excellent movie is set in 1910 and tells the story of a monster who tries to escape a horrible cop named Maynott and finds refuge at the 'Oiseau Rare', a cabaret in Montmartre. It's there he meets Lucille, a beautiful singer! Read more
In this girl game you'll get to dress up the characters from 'A Monster in Paris' from head to toe, but careful - they're performing in a show tonight, and the organizers have asked them to dress up in one of several special costumes (click 'Hint' to see them). Try to put together these star outfits by choosing a dress or suit and accessories for the two 'A Monster in Paris' stars in this monster game for girls, and leave us a comment to tell us if you liked the movie!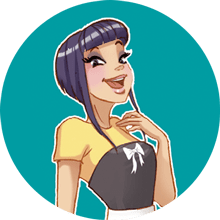 A Monster in Paris is one of my favorites! We clearly have awesome taste! Come and play more of my fave celebrity games!