How to play the game "Trapeze Game at the Circus"?
This game will have you and all your girl friends laughing so much! In this game you are a trapeze artist. Your mission is to throw your partner from one trapeze artist to another, without letting her drop onto the net! Read more
Start by clicking on the pink button, and then it's easy. All you need to do is use the SPACE bar on your keyboard to throw your partner to the next person (from right to left). But be careful, you need to be really close to the person who is going to catch - if you're too far away, your partner will definately just fall to the ground.
You only have a short time to think before your partner will get so tired that she'll drop to the net anyway though, so make sure you're quick!
Have fun girls!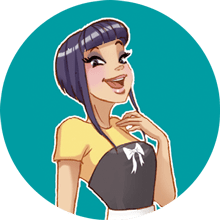 Trapeze Game at the Circus is one of my favorites! We clearly have awesome taste! Come and play more of my fave free games!