How to play the game "Tooth Fairy Pillow Decoration Game"?
How many baby teeth have you lost? In this decorating game you'll meet a little girl called Callie, who is almost 7 and has just lost another milk tooth. She can't wait to see what rewards the Tooth Fairy will leave for her under her pillow tonight! She wants to make sure her pillow is looking good when the Tooth Fairy arrives, so come and help her decorate a pillowcase in this free fairy game! Read more
What did the Tooth Fairy bring you last time you lost a baby tooth? Thanks to your decorating talents in this game, the Tooth Fairy is sure to be super generous and leave Callie a few nice shiny coins in exchange for her tooth! You can decorate her bed with a fairy on her pillow, teddies on her bed, and much more. Have fun!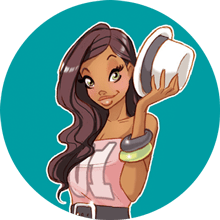 You're clearly loving Tooth Fairy Pillow Decoration - you should check out my pick of the best decoration games!