How to play the game "Skelita Calaveras Makeover Game"?
Skelita Calaveras is a real, living skeleton. She's all skin and bones! Oh wait, no she's just bones. Like most skeletons, she's not exactly what you'd call beautiful. But, she does have lovely long hair and a slim figure! At Monster High, lots of people make fun of her because she is different. In this Monster High makeover game, Skelita has decided to take things into her own, bony hands and try out a different look. Can you help give her a little more confidence in this celebrity makeup game? Read more
Skelita is relying on your beauty expertise here girl gamer! Give her skull a good er, scrub, before applying a facial cream with lots of calcium in. Calcium's great for bones! You'll then need to do a bit more cleansing to get Skelita's skin really clear, before plucking her eyebrows. After the beauty regime, it's time for hair and makeup in this celebrity makeover game. Remember, Skelita loves trying out different hairstyles, so don't be afraid to try some crazy looks! Wow, this is certainly a monster of a makeover! We know Skelita's going to be more confident now, she just needed a little more backbone! Do you like the Monster High girls? We love the bones of them!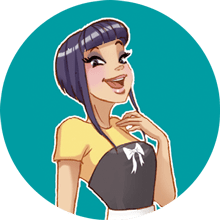 Skelita Calaveras Makeover is one of my favorites! We clearly have awesome taste! Come and play more of my fave makeover games!