How to play the game "Service at a Food Counter Game"?
This is a really fun, addictive game for girls where you'll need to serve food orders to customers coming to your food counter. Read more
Start by assembling all the items on the customer's food order. The faster you deliver the food, the happier the customer will be - if you take ages to bring their order, they might just get angry! Try not to make mistakes though - even if it means taking 2 seconds longer to think about the order. If all your customers are really happy with your service, you might even be named "Employee of the Day"
To try and get extra cash, try to always deliver the food while the satisfaction level is high! There are three levels to this game - easy, medium and hard, but if you want to qualify for a high score you'll need to choose the rush hour (hard) level! Maybe start with easy, then try medium and finally see if you can manage hard!
I bet lots of your friends will love this game too so remember to add mygames4girls to your blog, or email out the address to all your friends!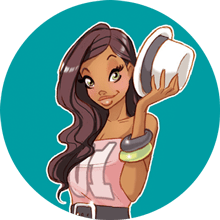 You're clearly loving Service at a Food Counter - you should check out my pick of the best cooking games!