How to play the game "Match the Pairs Game"?
Mmm, ice cream! What's your favorite flavor? There are loads of different types of ice cream to get your mouth watering in this surprise game! The aim of this puzzle game is to match the different types of delicious ice cream by moving them around the board. Just click on any two ice cream cones to make them switch places; if you match four in a row, they'll disappear and the squares on the board will turn from gray to pink. You need to turn the entire board pink before the time runs out if you want to win, so move fast! Read more
If you like arcade games and puzzle games, you'll have no trouble matching the different types of ice cream here! Like many girls' games, this ice cream puzzle might seem easy, but you'll need to be quick if you want to finish before the time runs out. If you get hooked on this addictive girls' game, make sure you check out the rest of the girls' games on the site for loads more surprises. There are pairs games, card games and much more fun stuff for you to enjoy right here! Have fun with this ice cream game for girls, and make sure you leave us a comment to tell us your high score!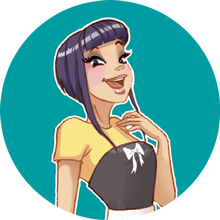 Match the Pairs is one of my favorites! We clearly have awesome taste! Come and play more of my fave puzzle games!