How to play the game "Kisses on the Phone Game"?
In this modern day and age, Cupid - the god of love, has decided to leave his bow and arrow at home, and instead he's going to try to connect love birds using the telephone! Read more
In this game for girls who love "love stories" you'll see blocks with different shapes of telephone lines falling down between "Casanova's" and "Lady Love" - the characters of this girls game! Move the telephone wire around using the arrow keys (left, right and down) and use the space bar to rotate the wire in different directions.
The aim is to make a telephone wire connecting the cable from Casanova's telephone, to the cable of Lady Love's telephone.
Will you be able to reunite these love birds?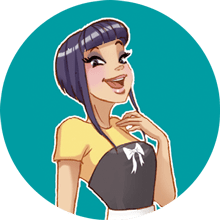 Kisses on the Phone is one of my favorites! We clearly have awesome taste! Come and play more of my fave kissing games!