How to play the game "Ice Cream Parlor Game"?
Are you as crazy about ice cream as we are? There's nothing like a tasty snow cone or a cool ice pop when it's hot outside! Unfortunately, you're not going to be the one tasting all the delicious ice cream in this girls' game – instead, you'll be making and serving them to other kids! The manager of your town's best ice cream parlor has taken the day off to go to an ice sculpture competition in this girl game, and he's left you in charge of the business for the afternoon. Cones, cups, smoothies, sauces… they're all yours to play with! Don't get too excited, though, because there's work to be done in this management game. Running a business is hard work, and the manager has given you lots of task to complete before he returns tonight! Read more
Lots of girls and boys will come into your store to order ice creams or smoothies. You just need to take their order and make it up for them by choosing the right drink, cone, cup or most importantly, ice cream. Just click on the items to select them, but watch out - if a customer asks for multiple scoops of ice cream, you'll need to put them in exactly the right order if you want to get paid! If you earn enough money you'll be able to move onto the next level, which will be a bit more difficult. If you love work games like this one, make sure you keep exploring the different categories of the site: you can become a waitress, sales assistant or even a chef, all in these girls' games!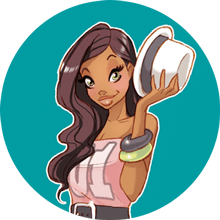 You're clearly loving Ice Cream Parlor Game - you should check out my pick of the best free games!