How to play the game "Golf for the girls Game"?
This is a really really lovely golf game for girls to play. You don't need to be good at golf in real life to play. Just watch carefully at the beginning to see if there are any obstacles (sand or water or a tree) and to see how far or how high you need to hit the ball. The more you angle your shot up, the higher the ball will go, and the longer you pull back the shot, the farther it will go. Easy! So start by just clicking on the ball and pulling back the line that shows your shot. Read more
Carefully not to hit the ball too hard or you'll have to start all over again. This game is one of the best games for girls because it's really good fun and you'll play it again and again and again to see if you can be better at it! Why not challenge your friends to play too and see who gets the highest score!. On mygames4girls there are lots of games for girls like this sports game, so see what other surprises you can find!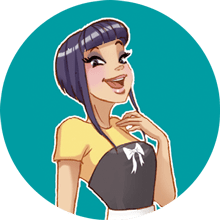 Golf for the girls is one of my favorites! We clearly have awesome taste! Come and play more of my fave sports games!