How to play the game "Furry dancer Game"?
With this set of super cute games for girls, you're going to get to know some strange little creatures called the Furrys! These little people are very shy and they have great difficulty making friends. Their common feature is that they all love to dance. That's how they got to know eachother in the first place. The goal of this free game is to form groups of at least three Furrys of the same color. When the gauges on the right side of this girls game are full, you can use it to change the color of Furrys to help you play. Read more
The more groups you manage to make, the more you advance along the map and you will manage to find the magic elixir. Careful though, the black Furrys have wicked spikes and they creep into some parts of this fun game and you can not make them move. But you can turn them into nice Furrys by painting them. Have fun and become a friend to the Furrys.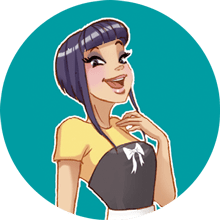 Furry dancer is one of my favorites! We clearly have awesome taste! Come and play more of my fave free games!