How to play the game "Fruit Store Game"?
How would you like to be the manager of your very own store and sell food, clothes or other products to customers? In these girls' games you can learn loads about different workplaces and jobs, and even try some of them out! Today you'll be managing a shop, but this isn't any old grocery store; this shop is located in a forest, and your customers are all animals! In this fun game for girls the jungle animals don't need to find their own food, because you have everything they need at your fruit stand: bananas, apples, strawberries, grapes… Read more
Animal games are always full of surprises, and you'll love selling fruit to elephants, bears and other forest creatures in this girls' game. Like work games and store games, the customers will come up to your shop counter and tell you what they want to buy. You need to serve the fruits that they want on a tray and sell it to them, and you'll need to be quick! These animals don't have much patience and if they're not served quickly, they'll leave the store without buying anything. If you're fast and sell lots of fruit to your customers you'll be able to move onto the next level, where your tasks will be just a little bit harder – but that's no problem for a girls' games expert for you, right? Have fun with this management game for girls, and leave us a comment to tell us what you think when you're finished!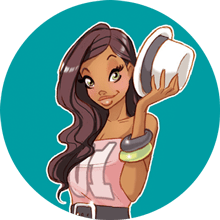 You're clearly loving Fruit Store - you should check out my pick of the best free games!