How to play the game "Fried Chicken Wings Game"?
Cooking games are great, aren't they? You can try as many recipes as you want and you never need to buy new ingredients or wash up any dishes! Today, we have juicy chicken wings with lemon on the menu, so let's roll up our sleeves, head to the kitchen and get cooking. Charlotte has promised to make chicken wings for her mom's birthday party this afternoon, but she doesn't know where to start. She'll need some help to follow the recipe and prepare her mom's favorite dish in this girls' game, so let's give her a hand! Read more
If you're an expert when it comes to cooking games, you've might have played with chicken recipes before. If not, don't worry: chicken dishes are really easy and quick to prepare, which is partly why they're so popular in fast food restaurants, as well as in girls' games. These chicken wings need to be fried in a wok (a special type of frying pan, often used in Japanese or Chinese cooking) and seasoned with spices and lemon juice. Just follow the instructions on the screen to cook them to perfection! This tasty dish will be ready in no time, and Charlotte's mom will be so happy and impressed when she sees your good work. If you're still hungry for more cooking games after this, you'll find lots more girls' games to satisfy your appetite in the cooking section. Enjoy, and don't forget to tell us what you think of this chicken game!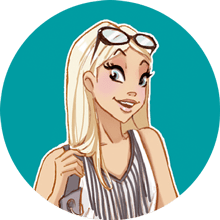 If you enjoyed Fried Chicken Wings, you'll love these cooking games just like me!