How to play the game "Franklin and Friends game"?
Franklin the turtle has lots of wonderful friends, and there are lots of girls games about him and his friends getting up to all sorts of mischief. Well in this, the latest of our girls games about Franklin, you're going to have to help him to cause lots of mess in the bathroom! Read more
All you need to do in this kind of free game for girls is to use your up and down arrow keys on your keyboard. Simply press them to make Franklin jump higher and higher, and perform special tricks by pressing the left, right or down keys while he's in the air. There are lots of online girls games like this one, that are just silly and lots of fun to play, so check out what else we have in store for you here at mygames4girls.com!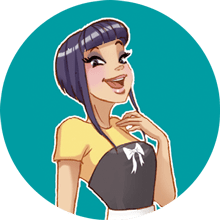 Franklin and Friends game is one of my favorites! We clearly have awesome taste! Come and play more of my fave free games!