How to play the game "Filly Fairy Game"?
Deep within the Filly Kingdom is the enchanted land of the Filly Fairies, a group of tiny ponies with fairy wings and magical gemstones. The exact location of the little horses' homeland is a closely-guarded secret, and the only way to find it is to have a real fairy show you the way. In this dress up game you'll meet Arabella, a fairy girl who is a close friend of the Fillies. Can you dress her up before she goes to meet the ponies in this girls' game? Read more
Like all fairy girls, Arabella loves to look pretty. Flick through all the dresses, accessories and wings in this fairy dress up game and make sure she looks super cute before she goes to visit her friends in the Filly Kingdom. Maybe she'll even tell you the secret of the Filly Fairies! Have fun, and check back soon for more magical girls' games.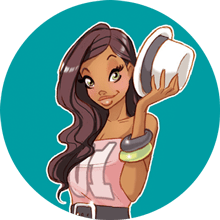 You're clearly loving Filly Fairy - you should check out my pick of the best fairy games!