How to play the game "The Adventures of Zee Game"?
Ever since Zee discovered the spinning compass that opened up strange portals, Zee has been going on amazing adventures! From her backyard Zee, along with her best friends Farah, Karim and Caramella, have ended up in outer space, the Antarctic, and deep under the sea! In this Adventures of Zee game, Zee and her friends have landed in Tokyo, where a giant panda needs your help destroying a tall tower. Help him out in this mobile game, but remember to switch sides to avoid bumps to the head!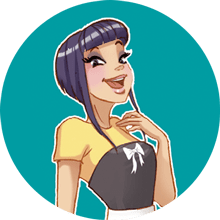 The Adventures of Zee is one of my favorites! We clearly have awesome taste! Come and play more of my fave panda games!