How to play the game "Dentist game"?
Nobody likes going to the dentist, do they? We all have to do it sometimes, though! In this girls' game, you get to try out being a veterinary dental assistant and help to treat a special patient. This cheeky monkey has eaten too much candy, and now his teeth are rotting and black. To play this girls' animal game, you'll need to look at his teeth, memorize which ones are bad, then pull them out. You only get a few seconds to look and more bad teeth are added with each round, so this memory game is not as easy as it sounds. Make sure you don't make a mistake - if you try to pull out a good tooth, this angry monkey will bite your hand! Read more
It's really important to eat healthily and brush your teeth so they don't rot away like the monkey's! Would you like to be a dentist when you grow up? Maybe a vet or a doctor? Or something totally different, like a fashion designer or beautician? Whatever your ambitions, we have lots of great games for girls where you can try out future professions! Why not come by the forums and tell us all about your dreams for the future? Good luck!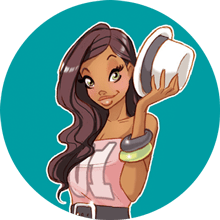 You're clearly loving Dentist game - you should check out my pick of the best work games!