How to play the game "Crazy Clown on a Bike Game"?
Roll up, roll up, let the show begin! Everybody welcome the circus! The circus has just arrived in town and you've managed to get your hands on some tickets for the show, how lucky! You're going to see acrobats, jugglers, wild lions and, what else? Clowns of course! The clown in this free game is a little strange. He's called Rolo, and his main act is riding over all kinds of obstacles on a little bike, but he's not very good at it...he needs some help from you girl gamer! Read more
In this free circus game for girls, you need to help Rolo the clown complete this crazy bike ride. You'll see everything on his path; trampolines, scales, lions, elephants and more...this is not child's play! Can you prove to everyone that you're not afraid of a challenge? Remember, Rolo's career depends on it! Try to go as fast as possible to get the highest score possible in this free bike game. Have you ever been to the circus? Tell us in the comments all about your favorite bit!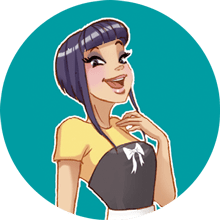 Crazy Clown on a Bike is one of my favorites! We clearly have awesome taste! Come and play more of my fave racing games!